On June 23, 2016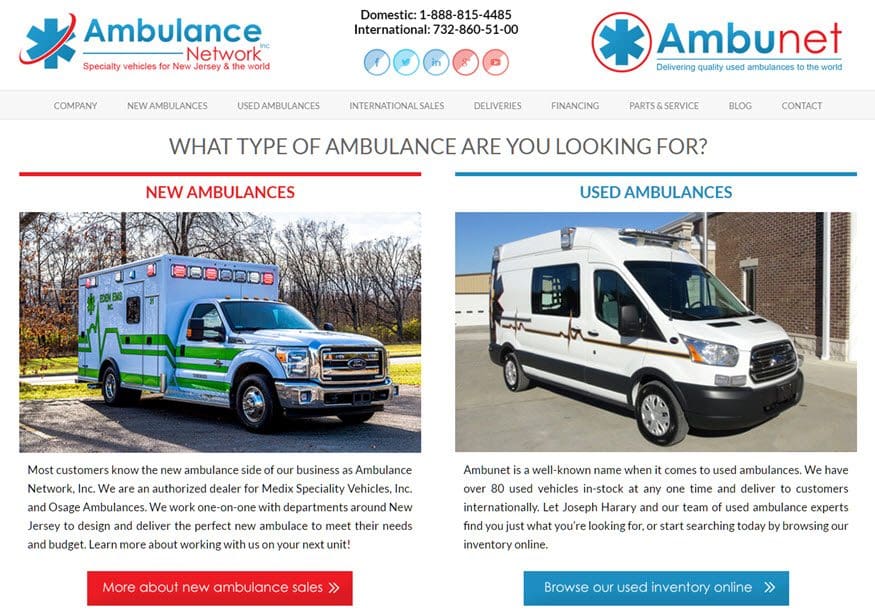 We're so excited to announce the redesign and launch of Ambunet.com. We've been thoughtfully working over the last several months to develop the content and site functionality, and we're so happy to see the results live! We hope the new site will better educate customers and potential customers on what we do, and allow them a convenient way to obtain information and contact us.
The old Ambunet.com was lacking important information about our company and our service offerings. Most notably, it didn't provide a comprehensive overview of our new or used ambulance sales. With our new website, we are able to list in-stock units online – including specific details about each unit, a gallery of images and video tours, and more. Since we often have over 80 used ambulance units in-stock, this section is particularly important for us.
The Used Ambulance inventory section will eventually house an up-to-date list of all the used ambulances we currently have for sale; we are still working to populate the site with all of our units (new and used). This will not limit our customers to purchasing only the vehicles on our site, but it will give them a better overview of what we have ready to go. The used listings also include an affordability rating – a detail exclusive to Ambunet. Based on a graphical system of 1 to 6 stars, the listing will tell you it's either very affordable (less expensive equals more stars) or less affordable (more expensive equals less stars). We look forward to giving visitors time to adjust to the new site and inventory sections and receiving feedback from them as they actively use it to search for their next ambulance.
The New Ambulance section includes in-stock inventory as well. However, it also includes comprehensive details about our relationships as a dealer representative for Medix Specialty Vehicles and Osage Ambulances. We have dedicated areas for each manufacturer that highlights their products in-depth. Whether you're looking for a new Type I, Type II, or Type III ambulance, we can work with you to deliver a custom vehicle.
We anticipate the new Deliveries section of the site to be a popular spot for visitors. There, we'll post our customer ambulance deliveries as they leave Ambulance Network, Inc. and head to their final destination. Customers can use the site to share their unit with others. It will also be a great resource for those in the bid spec and design process to research what others in the region are getting for an emergency vehicle and the features they included, that they might not otherwise have considered.
Another new feature for us in the blog. It will be a place to get the latest industry updates and news from Ambulance Network, Inc. We hope to provide relevant, educational content that our ambulance customers are seeking for. We also plan to leverage it to promote tradeshows and other special events.
Additional resources on the site include information about our company, staff, international sales offerings, financing options, and parts and service. Each section has a convenient option to email us for more information. Or, we hope you'll pick up the phone and give us a buzz using the toll free numbers listed on every page of the site!
We appreciated your patience as we built the new website and hope you are just as excited to see it as we were! If you have any feedback or questions, please leave a comment below.