On September 12, 2016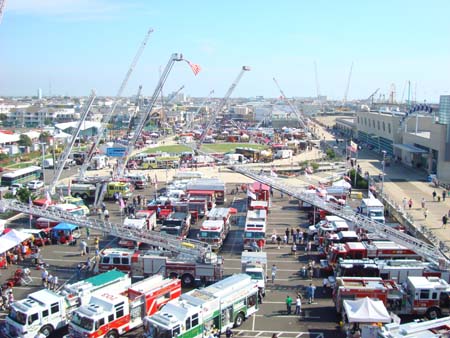 Ambulance Network's new ambulance sales representatives are gearing up to head to the New Jersey Fire Expo. Hosted by the Five Mile Beach Volunteer Firemen's Association, the 27th annual New Jersey Firemen's Convention will take place September 16 – 17, 2016. Often described as the largest fire exposition east of the Mississippi, the event will be held at Conventional Hall in Wildwood, New Jersey.
Located at Montgomery and Ocean Avenues, across from Convention Hall, the Exposition area will include several large tented areas featuring vendors throughout the Fire/EMS Industry. There is also a four block area outside where fire trucks, ambulances, and other emergency vehicles will be on display. The Apparatus and Equipment Display will be open Friday, September 16th from 8:00 am to 6:00 pm. It will be open Saturday, September 17th from 8:00 am through 2:00 pm.
Ambulance Network, Inc. will have exhibit space at the north end of the South Lot, between the Pierce Manufacturing and E-ONE Displays. This will be in the center of the display area and only a short walk from the ramp at the south side of the convention center. There, we will have five new ambulances on display! These include High Bridge Emergency Squad's Ford E350 Osage Type III, Ringoes/Amwell Valley Rescue Squad's customized Ford F450 Osage Type I, a Ford T350 Osage Type II Transit Demo, Ford F450 4×4 Braun Remount, and Ford E350 Medix Type III. Our entire new ambulance sales staff will be in attendance, including: Paul Vickery, Harry Heller, Jeff Crine, and Don Scala.
If you're planning to attend the Wildwood Fire Expo, make sure you stop by to see us! We're looking forward to catching up with customers old and new, and answering any questions or concerns you may have about purchasing a new ambulance. If you can't make it to the Expo, we encourage you to visit our website to learn more – or give us a call at 888-815-4485.