MEDIX TYPE II AMBULANCES
Offered on either a Ford Transit or Sprinter Mercedes Benz, all Medix Type II ambulances are configured for medical transport needs
at an exceptional price point. Focused on safety, the Medix Type II ambulance includes an emergency lighting package that contains
Whelen emergency, scene and load lighting for maximum visibility. Other notable standard features include 3D/CNC
produced wood and aluminum cabinetry, high back tech seating, and HD welded steel curbside wall structure.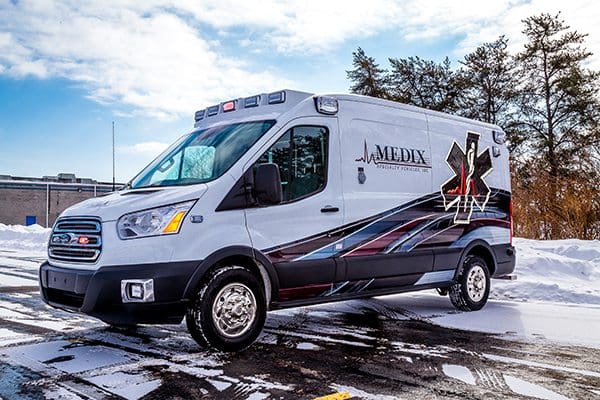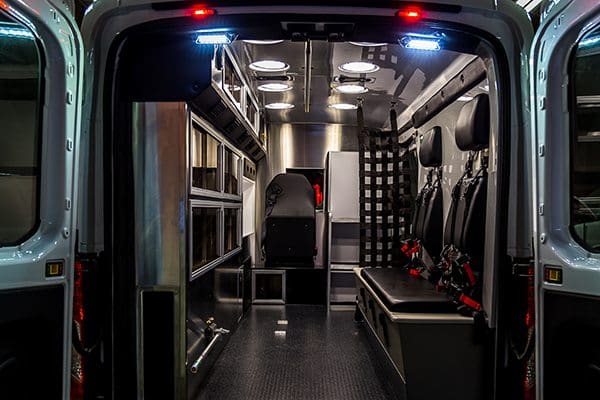 SRH-148/Silverhawk
Although the SRH-148 Ford Transit and the Silverhawk Sprinter models are both Type II ambulances, they each have their own distinct features. To determine the best option for your department, review the points below and feel free to contact us today with any questions. We'd be happy to talk it through with you to determine which model best fits your needs.
Features and Benefits of the Medix SRH-148 Ford Transit:
A powder coated aluminum squad bench base with HDPE top/hinged lid maximizes storage capacity, eliminates the potential for fluid borne penetration/contamination.
The single piece formed fiberglass ceiling features eight recessed Whelen LED light heads, two recessed fold down IV hangers and a formed 72" stainless steel overhead grab rail and the single piece fiberglass curbside wall with recessed 125VAC/12VDC and O2 outlets are designed to follow the body contours, reduce trim and facilitate a clean interior.
Ducted air for even A/C-Heat distribution with easy access to the evaporator unit.
Designed to provide a variety of seating configurations along the curbside wall, all tested to meet the new and more rigorous testing standards required by SAE/AMD/NHTSA.
ALS cabinet designed to provide 747 storage, stair chair storage and a locking drug cabinet constructed of ¾" HDPE with a formed aluminum liner for the stair chair to provide a durable, impenetrable surface for ease of cleaning and long term durability.
Transverse O2 at the lower bulkhead and slide-in horizontal backboard storage along the lower streets side wall helps maximize storage and working space for managing the patient.
Features and Benefits of the Medix Silverhawk Sprinter:
CNC cut and formed components create a consistently rugged interior for the Medix Silverhawk Sprinter.
This roomy interior provides a good working environment for transport as well as most BLS applications. It also can accommodate some ALS applications.
The patient compartment is exceptionally spacious, with 128" from the bulkhead to rear doors, 38" of aisle space, and 75" of head room.
Boasting formed fiberglass interior ceiling and wall components and a custom designed powder coated aluminum center front console, the Silverhawk Sprinter provides an aesthetically appealing and rugged interior.
Because of the spacious environment, there is abundant storage capability, high headroom, and a stable environment for managing the patient.
Private providers, hospital systems, municipal, and volunteer ambulance services are common clients of the Silverhawk Sprinter.
View our most recent Medix Type II Ambulances DELIVERIES