NEW AMBULANCE SALES
Ambulance Network, Inc. is well-known as a leading dealer for new ambulance sales in New Jersey, and around the world. Loaded with Fire/EMS Industry veterans, the new ambulance sales team proudly represents Medix Specialty Vehicles and Osage Ambulances in the region. By representing these two manufacturers, we are able to provide our customers a quality, custom new ambulance that meets their needs and requirements at a price they can afford.
These two manufacturers allow us to offer an excellent mix of new ambulances, without any competition between the two. If you're looking for a new ambulance at the best price, we can deliver it for you!
WHAT'S OUR NEW AMBULANCE SALES PROCESS?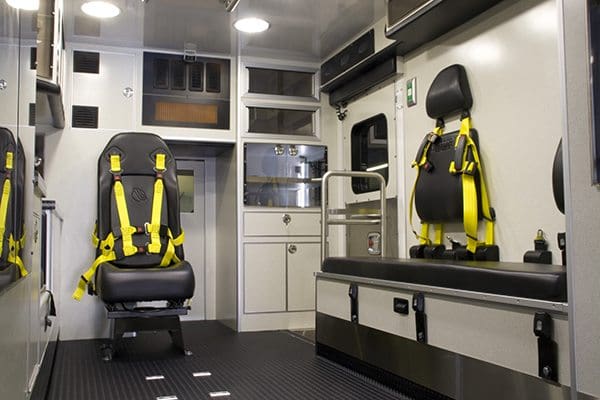 In short, we work with you to design and deliver a custom ambulance at a great price. We focus on asking the right questions up front to successfully meet that goal. We keep an open line of communication to ensure we're meeting and exceeding your expectations in every phase.
In our initial conversation, we will commonly ask a few questions.
What type of vehicle are you looking for – Type I, Type II, Type III, Medium Duty?
Are you specifically interested in one of our manufacturers?
Do you have a budget limitation that you need to keep within, or is that still open?
Will your organization be purchasing the unit, or a Fire District or a municipality? Are you familiar with the H-GAC Buy Program?  Will you be looking for financing assistance?
Is there a time frame that you need to have a new unit on the ground within?
What kind of ambulance(s) are you currently running?
With the model, budget, and time frame considerations worked we can collectively make a determination as to which model and manufacturer would best serve your needs and pick a time that we can bring a demo unit out for your review.  ANY day or evening can work.  Mid-afternoon, evening, even over the weekend.
As we work with you thru the selection, decision and order process it is all about the details!
Both Medix Specialty and Osage Ambulance offer custom drawings that are refined during the design phase and become part of the contract of sale and build order.  Upon completion one of our full time drivers visits the factory, does one more inspection and brings the unit to our shops in Elizabeth.  Graphics can be applied at either manufacturer's facility or at our shops in Elizabeth.  One last pre-delivery inspection is done, and the unit is delivered to you by the salesman that sold the unit.
AND A BRIEF WORD ABOUT SERVICE AFTER THE SALE…
While we are on-site for the delivery of your unit, don't be surprised if you hear us say, "Don't forget that the delivery isn't the end of our relationship, it's the beginning." If any issues arise, service or otherwise, you can be confident we'll take care of you.  Just pick up the phone and give us a call. We have a road service unit that can come to you and fix the problem on site, at your convenience. On the rare occasion we need to bring a unit back to our shop, we will arrange a driver to pick up and return the unit to you.  The same road service technician is also available for routine maintenance at your facility.