OSAGE TYPE I AMBULANCES
Built on a light duty frame, such as the Ford F-450 or Dodge 4500 chassis, the Osage Type I ambulance is a great option for those looking
for a standard emergency response vehicle. Available in either 4×4 or 2×4, all Osage Type I ambulances feature seamless body construction,
a squad bench, and seats for an EMT and CPR. They also include dual IV hangers and locking containers for sharps and drugs.
Manufactured with care to meet high quality specifications, they are customizable to meet any customers' requirements.

Warrior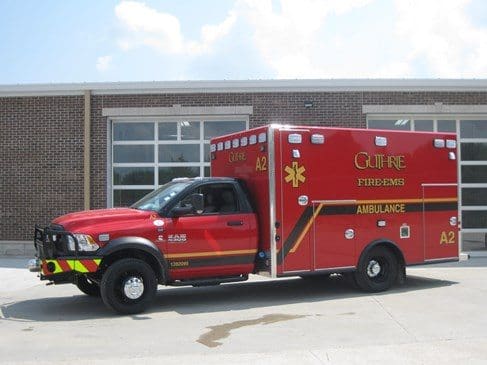 The Warrior is a mid-level Type I ambulance, which can be built on either a Ford F-450 or a Dodge Ram 4500 chassis. A solid example of Osage's quality vehicles, the Warrior Type I ambulance boasts an enhanced electrical system in addition to a load manager and sequencer, which guards the electrical system. The Warrior also has superior storage space for EMS equipment and gear on its 148" long and 96" wide body. With the entire ambulance compartment constructed before being placed onto the chassis, Osage ensures that, from start to finish, your Type I Warrior ambulance is ready to serve.
If you're looking for a Type I ambulance with ample space and an enhanced electrical system, the Warrior is the right fit.
Super Warrior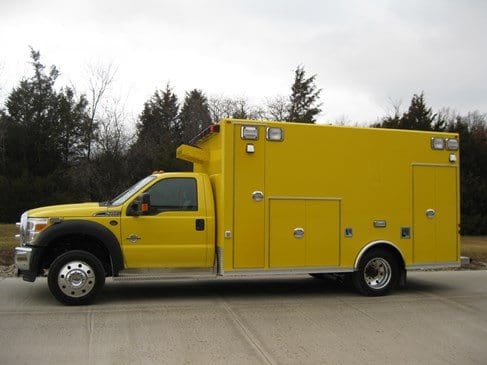 The Super Warrior is the largest Type I ambulance available from Osage Industries. Featuring a module body of 168″ in length, this is the Type I ambulance needed if durability and maximum work space are top priorities. Available on multiple chassis options, including the Ford F-450, Dodge Ram 4500 and International Terrastar, this Type I ambulance is flexible enough to fit your department's every requirement. Boasting a GVWR of up to 19,000 lbs. (on an International TerraStar chassis), you can depend on this Type I ambulance for your most intense emergency calls.
For those who need a spacious work environment and a higher payload out of their Type I ambulance, the Super Warrior Type I ambulance model is our top of the line choice.
View our most recent Osage Type I Ambulances DELIVERIES