OSAGE TYPE II AMBULANCES
Popular among private and non-profit medical transportation services, the Type II ambulance is ideal for those in the market for a fuel efficient ambulance. While smaller in size compared to Type I and Type III units, the Type II ambulance can operate at a lower cost while still meeting all of the needs of a transport vehicle. Osage Type II ambulances are not only fuel efficient but are also built with the highest quality.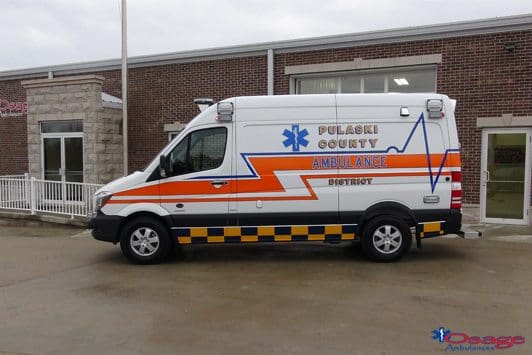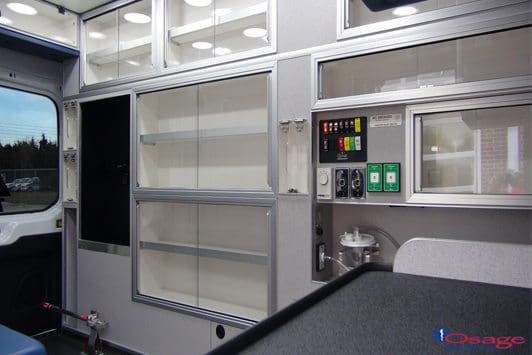 Osage Travois Type II Ambulance
Osage Ambulances manufactures one model type for Type II called the Travois, and it's offered with three different chassis options: the Ford Transit, Chevrolet G-3500 and Mercedes Sprinter. If fuel economy and a basic transport service are the goals of your organization, Osage's Type II Travois ambulance is the emergency vehicle you're looking for. While the Travois Type II ambulance does not offer the same functionality of larger ambulances, it has all of the necessary features for a medical transport vehicle.
If your department requires an ambulance mainly for transportation rather than emergency response, the Type II Travois will deliver on reduced operation costs and great fuel mileage for your needs.
Travois Features and Benefits:
Fiberglass roof cap with reinforced "waffled" integral ¾" roof panel
Full length wire mesh ground plane in roof
Full length 7-bar "sled style" roll cage installed in compliance w/ Ford QVM OEM roof protecting driver's compartment
Curb side 6" impact protection beam
Grip strut rear step bumper with rubber dock bumpers
Automotive undercoating protection
R-14.5 Reflectics insulation throughout
Patient compartment sliding door in walk-thru
Bulkhead recessed for additional room in cab
Rear facing EVS high back attendant seat
Squad bench
Retractable seat belts at designated seating positions
Steel retaining bracket for oxygen "M" cylinder and two "Ohio" oxygen outlets
SSCOR suction unit
Locking Sharps container
Standard ALS shelving
3/4″ solid core cabinet grade plywood for all cabinets with all screws, no staples
Full length/full depth upper left wall cabinets and large overhead bulkhead cabinets
Ferno Washington Model 175-I Cot fastener
View our most recent Osage Type II Ambulances DELIVERIES