OSAGE TYPE III AMBULANCES
In the Type III line-up, Osage offers three models, including the Brave, the Warrior, and the Super Warrior. Built with a completely seamless body construction, each model also features a one-piece exterior side panel, as well as a one-piece crowned roof. All Osage Type III ambulances also offer an ALS compartment with in and out access, as well as a thermostat-controlled patient compartment. Built to the exact specifications of any department's needs, Osage Type III ambulances are hard to beat.

Brave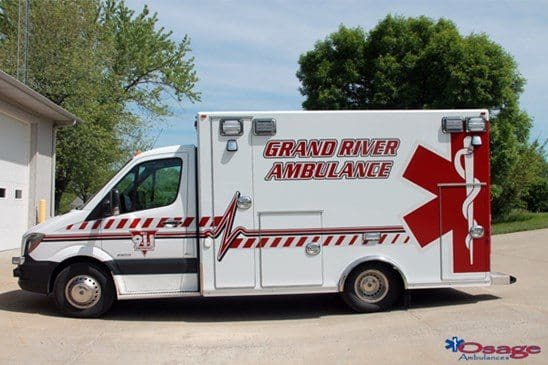 Available only on the Mercedes Sprinter chassis, the Brave model is for departments looking for an entry level, no-frills Type III ambulance. Built with a separate, square patient compartment, it also features diamond plate shields on the lower rear, lower front, and lower third of doors. Engineered to include a 49" wide aisle space, your crew should have no problems working efficiently to make the patient as comfortable and safe as possible.
Ideal for those who need more than the Type I, but don't need the highest performing models available from Osage, the Brave Type III ambulance will meet your needs with high quality craftsmanship and impressive customization options.
Warrior